Seven of the Most Romantic Things to do in Byron Bay
Did you know that travelling with your partner, husband or significant other actually makes you more receptive to love; because new experiences, adventures and places raise our adrenaline levels.
And it has to be said that some destinations are more romantic than others. Call us biased, but we believe Byron Bay is arguably one of the sweetest and sexiest spots to whisk away your loved one, be it an overnight escape, weekend away or a week long holiday. Whatever your timeframe, we've rounded up seven of the most romantic things to do in Byron Bay… Sounds attractive, right?
Sunrise from Mt Warning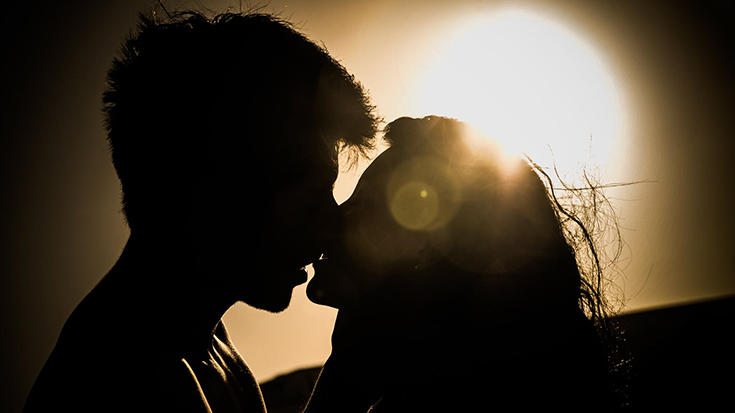 Love will soar with our Mt Warning Sunrise Walk tour. Spend the evening curled up together by an open fire, roasting marshmallows and star-gazing before heading to bed in either one of our onsite cabins or a cosy two person tent. In the morning, take to the mountain and climb to the summit – home of the first place in Australia to see the sunrise (plus some killer views of the Byron hinterland). What could be more romantic? No, really?!
Hint: Looking for a unique and unforgettable wedding proposal idea? Leave that someone special breathless by proposing on the top of Mt Warning as the sun slowly rises behind you.
Crystal Castle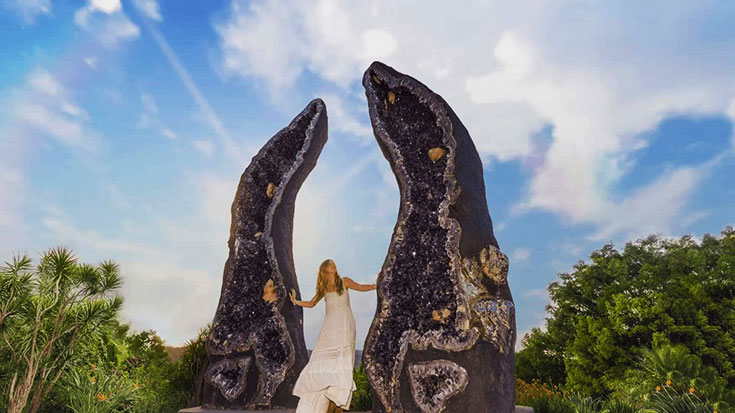 Brimming with romance, Crystal Castle is one of the most beautiful destinations in the Byron hinterland. Hold hands and get lost together in an ancient labyrinth of rare crystals, enormous stone statues, a bamboo walk and private garden spaces. Find yourselves stocking up on rose quartz crystals (considered the most powerful stone for attracting love) or touch the World Peace Stupa together, a project blessed by the Dalai Lama.
Kayaking with Wild Dolphins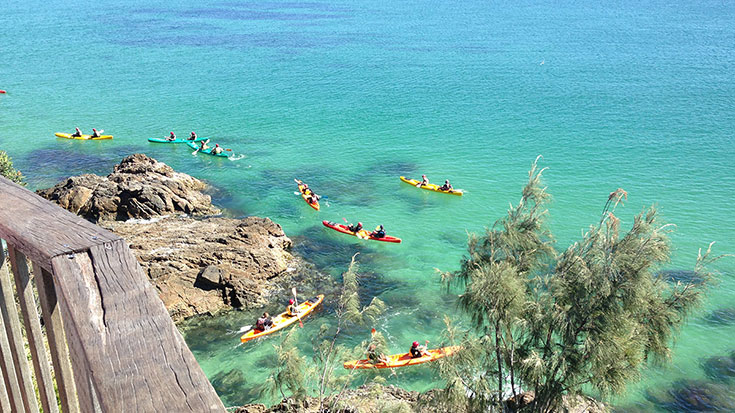 Kayaking with dolphins is one of the most emotionally-inducing activities in Byron Bay. Imagine you and your date getting up close and personal with pods of playful dolphins in the wild! Not only will this experience set your heart aflutter, it's hard not to feel excitable, impassioned and high-spirited. We know…pretty romantic.
Kayak with dolphins on one of these Byron Bay Adventure Tours:
Learning to Surf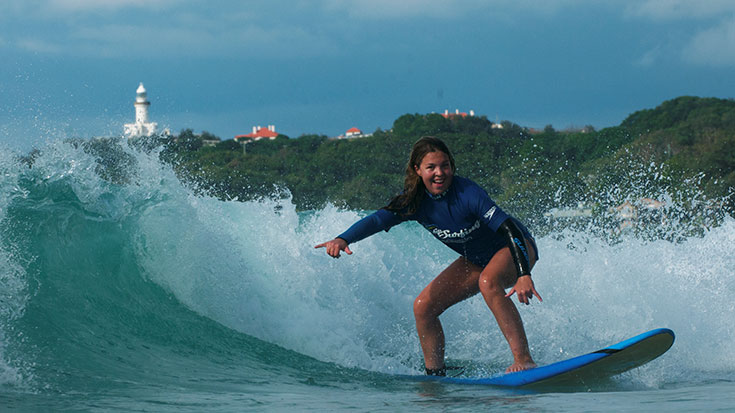 For couples who can't get enough of the beach, learning to surf will get your endorphins racing, have you laughing and is loads of fun. And it's true what they say – couples who laugh a lot tend to have more passionate relationships. Consider yourself convinced!
Learn to surf with one of these Byron Bay Adventure Tours:
Rock Pool Swimming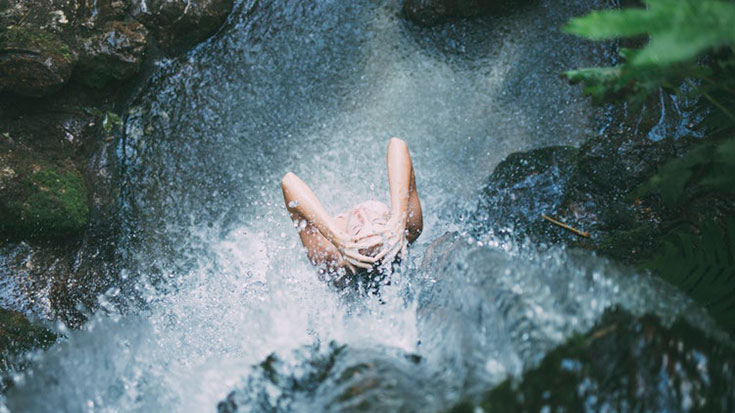 Steal kisses as you relax in Mother Nature's natural sauna – rock pools. Start by lying together on the warm rocks – then when you're hot enough – take a swim in the fresh water pools. The mineral-filled water will leave your bodies feeling soft, relaxed and invigorated! Ahhhh…
Go rock pool swimming on one of these Byron Bay Adventure Tours:
Minyon Falls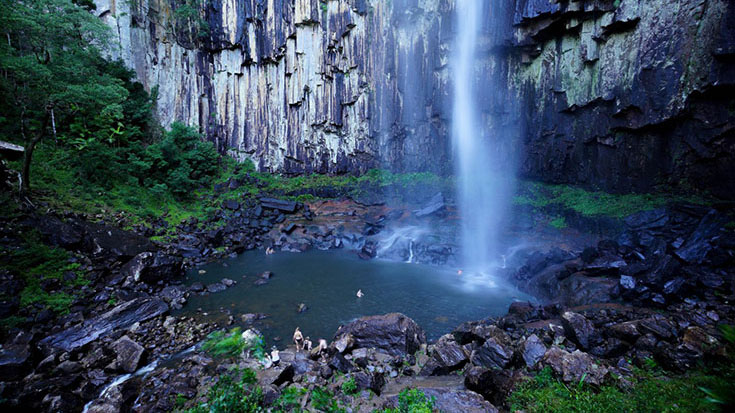 Yes, an ancient waterfall set deep in the rainforest with hinterland views and a large natural swimming hole is completely necessary for a romantic trip to Byron Bay! After walking to the bottom of Minyon Falls, cool off by floating hand-in-hand with your beloved in a swimming hole that is fed by the 100m falls above. It's truly majestic and, oh so…romantic.
Visit Minyon Falls on one of these Byron Bay Adventure Tours:
Morning Yoga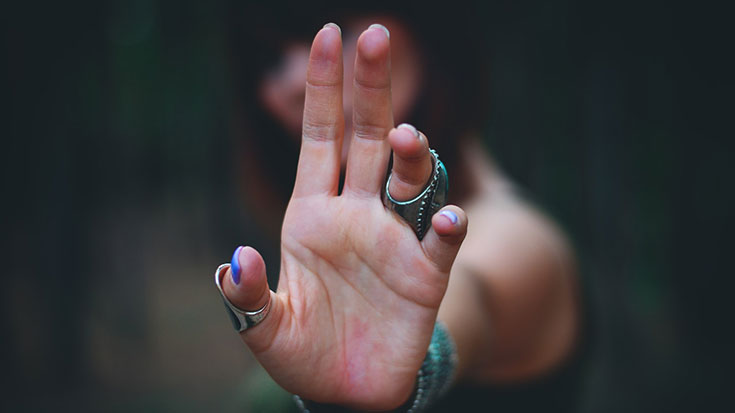 Next up: downward-facing dog. Get in-shape and loved-up with yoga on the terrace at Byron Bay Hotel & Apartments each morning from 8:00am. Get your body moving. Sweat a lot. And for your troubles, achieve inner peace and togetherness with your partner. Namaste.
Image 7 Credit: Wanderlust of Dill