Surrounded by a protected marine reserve and being the most easterly point along the Australian coast, Byron Bay is recognised as one of the best and most responsible places to see the annual Humpback whale migration.
Byron Bay Adventure Tours is equipped with a range of tours to get you enjoying these majestic animals including on sea kayak, eco-friendly cruise, headland vantage points and, if you're very lucky, by surfboard.
Because – we're all about getting in touch with nature – ethically!
Sea Kayaking
Byron Bay can boast more than 17,000 migrating Humpback whales from May to October, and one of the most serene ways to view these animals is by sea kayak.
The opportunity to encounter these creatures in their own environment is truly breathtaking. Kayak out from Clarkes Beach and around The Pass headland, which is full of dolphin pods, turtles, rays and a kaleidoscope of fish. Look a little further out to sea for the opportunity to see the passing parade of whales. It's one of the most awe-inspiring adventures you can experience in Byron Bay and there really is nothing better than seeing these animals in the wild.
Byron Bay Adventure Tours offers a range of tours that include sea kayaking:

---
Byron Marine Park Eco Cruise
Perfect for families, our Byron Marine Park Eco Cruise tour is a four hour adventure on-board a comfortable and modern eco-friendly craft and includes an informative talk by our Marine Biologist.
This tour explores the coastline between Byron Bay and Ballina including Cape Byron Lighthouse, Julian Rocks and Cape Byron Marine Park. This is one of the best whale watching experiences in Byron Bay and, as an added bonus, the vessel is equipped with a hydrophone so you can hear live Humpback whale songs.

---
Cape Byron Headland Reserve
The unspoiled Cape Byron Headland Reserve is a State Conservation Area managed by the NSW National Parks and Wildlife Service. It is the ultimate vantage point on the east coast of Australia to see the annual migrating Humpback whales.
Spectacular sea cliffs sit high above the Pacific Ocean offering the largest expanse of sea views in the area. Watch as whales, wild dolphins and sea life frolic in the waters below. The headland also features the famous Byron Bay Lighthouse, large public binoculars if you want to take a closer look and a great little café so you can watch the whales over the top of a latte.
Byron Bay Adventure Tours offers a range of tours that include the Cape Byron Headland Reserve:

---
Learn to Surf
The whales can sometimes be a little harder to spot while learning to surf, but if you are lucky enough to encounter a nearby breaching humpback – the experience is second to none! Look out for the tip of a fin, then the whole fin, then a head and a back! Followed by lots of loud "OOHH's" and "AAHH's" by your fellow surfers!
The experience is electric and something you'll remember forever. Not to mention the pure adrenaline and fun of also learning to surf in Byron Bay.
Byron Bay Adventure Tours offers a range of tours that include learning to surf: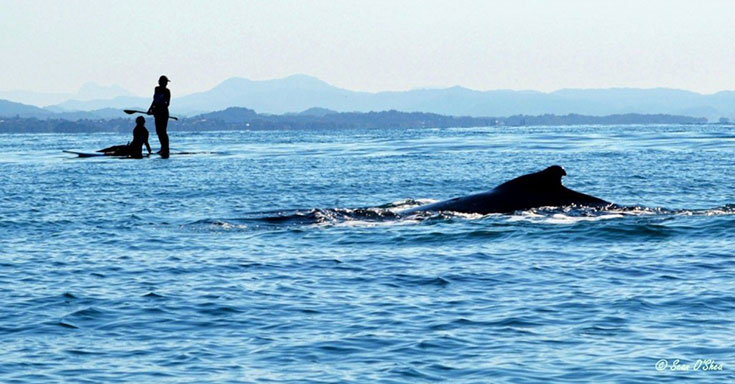 Photo Credit: Sean O'Shea